DVD : The Coming of the White Birds

A 25 minute documentary recording the memories of Margaret Thorsborne and others as they recount the last 50 years of counting Torres Strait Pigeons at the Brook Islands.
The DVD includes a 12 page booklet written by Margaret Thorsborne documenting the history of the counting.
Produced by Bryony Barnett and Sarah Scragg
Australian Orders
$17.50 / DVD  Free Shipping
Shipping to Australian locations is included in the price
Australian orders will be provided in PAL format.
Video sales for this DVD are being handled by Bryony Barnett in Townsville. Please contact her to arrange payment and shipping address. Please call during business hours.

Mobile: 0407 115 402
Email: bryonyb(at)bigpond.com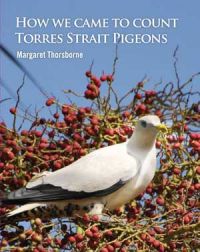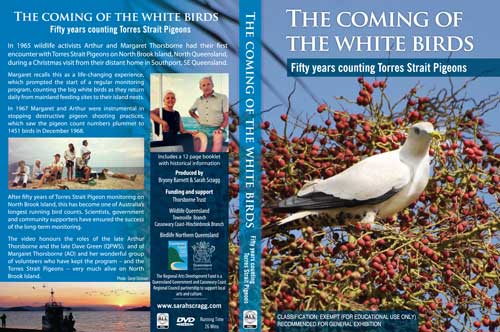 In January 1965 wildlife activists Arthur and Margaret Thorsborne had their first encounter with Torres Strait Pigeons on North Brook Island, North Queensland, during a Christmas visit from their distant home in Southport, SE Queensland.
 Margaret recalls this as a life-changing experience, which prompted the start of a regular monitoring program, counting the big white birds as they return daily from mainland feeding sites to their island nests.
 In 1967 they were instrumental in stopping destructive pigeon shooting practices, which saw the pigeon count numbers plummet to 1451 in December 1968.
 The video honours the roles of the late Arthur Thorsborne and the late Dave Green (QPWS), and of Margaret Thorsborne (AO) and her wonderful group of supporters who have kept the program—and the Torres Strait Pigeons—very much alive on North Brook Island.